Adventurous Couples Session in Moab, UT, Casey and Emily by Map + Compass Photography
Adventure Wedding and Elopement Photography
When's the last time you had your photos taken? Most people have experienced posed photographs where they look and smile at the camera. Instead, at Map + Compass, I believe cute couples pictures come by capturing natural interactions at a special location or during an activity that reflects a couple's relationship.
Engagement and couple's photos can often feel forced rather than natural, especially if the photographer tries to find perfect couple poses. Let's be honest, most of us aren't models and don't feel comfortable in front of the camera. That's where I come in!
I believe couples pictures, no matter if they are for an engagement, anniversary or just because, are important and should reflect your personality and relationship. Maybe you and your partner met while rock climbing, hiking or rafting in Moab or Colorado. Integrate the outdoors into your couple's session to feel more at ease and echo your true selves.
Do you want to include your dogs in your couple pictures? While national parks normally don't allow dogs, there are plenty of federal and state parks that do. Also, I know many off the beaten path locations, just like this shoot with Casey and Emily.
About Casey and Emily
You'll have a hard time finding two people that are more adventurous than Casey and Emily. Both have worked in the outdoor industry and share a love for the outdoors. Their adventurous lifestyle includes biking and owning a gym together in Moab with and their cute kids, I mean cute dogs, Cash and Koi.
Emily is also an awesome elopement and intimate wedding photographer based out of Moab, UT. Check out her work here! They look like they walked off my "What to Wear" Pinterest board or this Junebug Weddings article on photo outfit ideas.

Reasons taking couples photos are fun and important…

1. Documents the different seasons of life and your relationship
We all change and grow. Our interests, appearances, personalities and relationships evolve over time. We grow as both individuals and a couple. Doing couples pictures is a great way to document and relive different phases in life. I love how photography captures your life and relationship in the specific moment, freezing time. You can then look back at photos and reflect on a certain time of life while also being able to pass those memories on to your family.
2. It's a way to relax and reconnect
Life gets busy and hectic for us all. Sometimes, circumstances challenge our relationship while making us stronger. I find when planning an adventure photography session, that it allows for couples to slow down and just be together. I often suggest exchanging letters in an intimate moment to rekindle love or express gratitude and affection. Also, like for Casey and Emily, bringing their cute dogs along is the perfect way to relax and reconnect.
3. It allows for a unique and memorable experience
Regardless of the type of session you schedule, I always build a customized experience for my couples' photography sessions. It's not just about cute couple pictures, it's about sharing in an experience that you resonate with.
Perhaps a favorite pastime is hiking, then building a fire and cracking open your favorite craft beer. As an adventure photographer, I love asking questions to help couples have a memorable experience. Scheduling engagement photos or couple pictures during a trip to a favorite or new place, like Zion National Park, Arches National Park or the Moab, UT area, creates an experience. You won't just have cute couple pictures, you'll walk away with a meaningful experience, creating an even deeper bond between you both.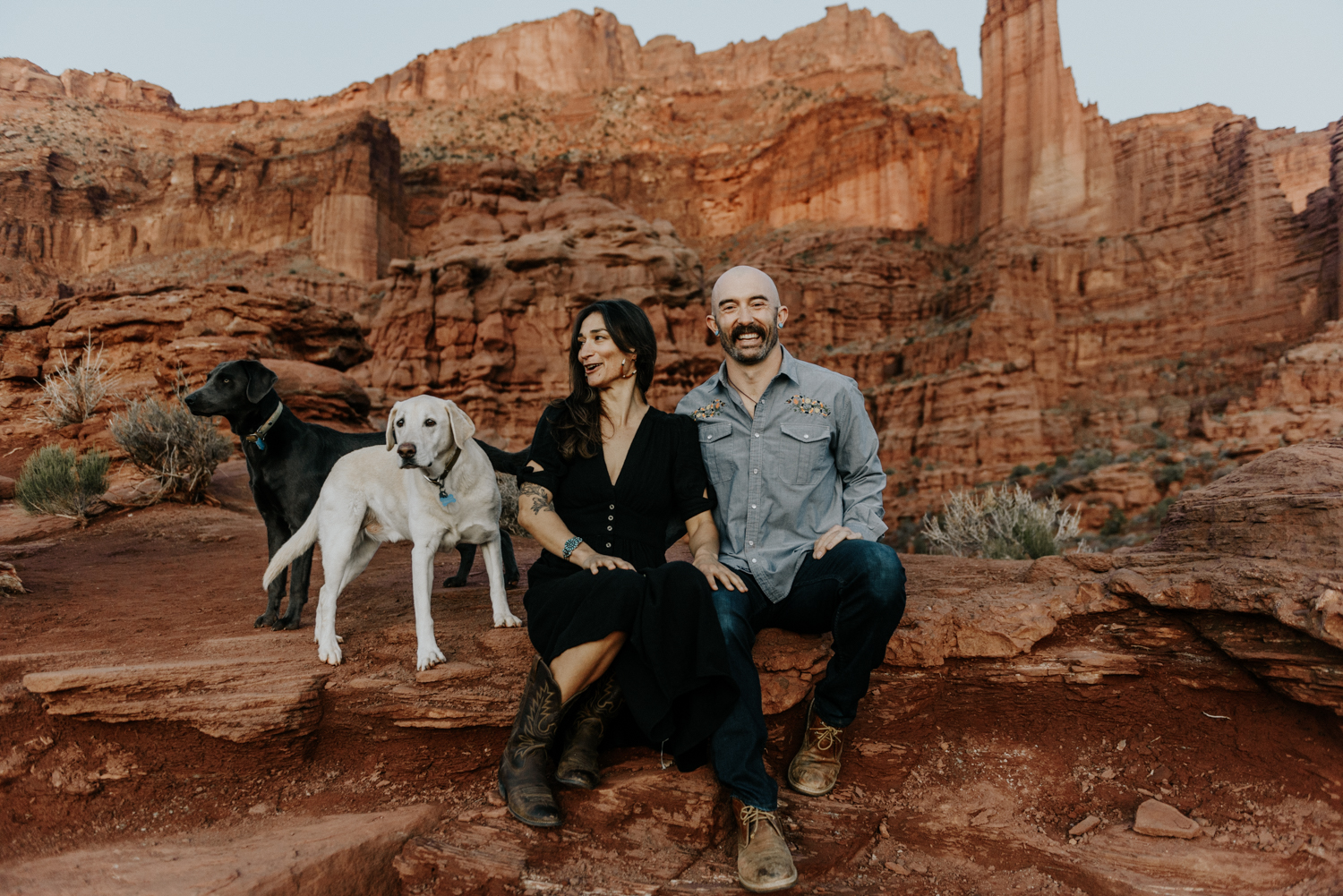 Adventure Photography Session with Map + Compass
Does this type of couple's photography session sound right up your alley? Contact me today to plan the perfect experience for you! Check out this adventurous engagement photo session in Rocky Mountain National Park for ideas.