Zion National Park Couples Adventure Session, Jake and Karissa by Map and Compass Photography
Zion National Park Elopement Photographer
Utah is one of my favorite states. The national parks and other stunning locations are easily accessible and offer diverse landscapes, unlike any other place in the US. You may have thought about eloping, planning an intimate wedding or an off the beaten path photography session at Zion National Park but have no idea of where to start. As an adventure guide photographer, I'm here to walk you through some key considerations below!
Meet Jake and Karissa
Jake and Karissa are one of the most enthusiastic, kind and free-spirited couples I've ever photographed. Our time together started out with heavy snow that quickly turned to sunshine and then snow again!
They willingly hiked through mud, puddles of water and ice to reach Zion Canyon Overlook all while wearing wedding attire. We reached the summit to find very few people, which is common in February, as the cold weather keeps people away. As an adventure photographer, this is the ideal situation. Jake and Karissa explored the overlook despite the frigid cold and kept me laughing the entire time. PS...even though it snowed, it wasn't as cold as it looked! I had hand and foot warmers for them!

1. Time of year
As in many National Parks, the weather in Zion is unpredictable and can change fast. In the winter, you can experience snow and sunshine within 15 minutes, much like Colorado. Select a colder month for your elopement or adventurous couple's session at Zion's Park to avoid the crowds at popular destinations, like Canyon Overlook. In fact, trails like the Narrows or Angels Landing are closed or require special clothing and equipment during the winter. You also avoid the heat and unpredictable weather that brings monsoons in July and August in the Park.
In the summer, it can get VERY hot. Plus, you can only access the park via their shuttle system, which is limiting in terms of time and capacity. It makes coordinating logistics more difficult, especially if you want to include family and friends. There isn't much flexibility for couples who love outdoors to explore and have a unique experience without the crowds. Luckily for you, I can help you locate the perfect Zion National Park secret elopement location if your up for exploring! Also, factor in popular times like spring break, holidays and school breaks. These times are a bit too crowded to enjoy an adventure photo session.
2. The park is easily accessible
With Zion's proximity to Las Vegas, it's easily accessible and one of the most visited national parks with the driving being under a little under three hours. Zion is such a convenient place for outdoors lovers to get married! Your guests can fly into Las Vegas, rent a car and make the short trip to the park. Guests also have access to hotels, restaurants, grocery stores and other amenities in Springdale, literally steps away from the park.

The canyon is relatively small, but the park offers a wide variety of adventures and hikes, including paved riverside trails, rock climbing and canyoneering. Companies like Zion Adventure are great for guided rock climbing, canyoneering or mountain biking. There are also Airbnb Experiences that offer diverse adventures for all ages.
3. Easy planning and logistics
With proximity to Las Vegas and Springdale, it's easy to find florals, hair and make-up artists or reception venues for a small intimate dinner with family and friends. Bit and Spur is an iconic spot that has Southern Utah's largest selection of micro-brews. Plus, it's located just steps outside the park. The modern, rustic interior has great lighting for a reception. In addition,
Under Canvas Zion has charming teepees and amenities to make guests feel at home.
I love helping adventurous couples find locations and plan their perfect adventure session, elopement and intimate wedding in National Park. It is truly the perfect location to document your relationship and begin the next chapter of your journey!
Whether you want to elope, host an intimate wedding, schedule couple's photography session or even opt for day after photos, I'm here to help guide your adventure.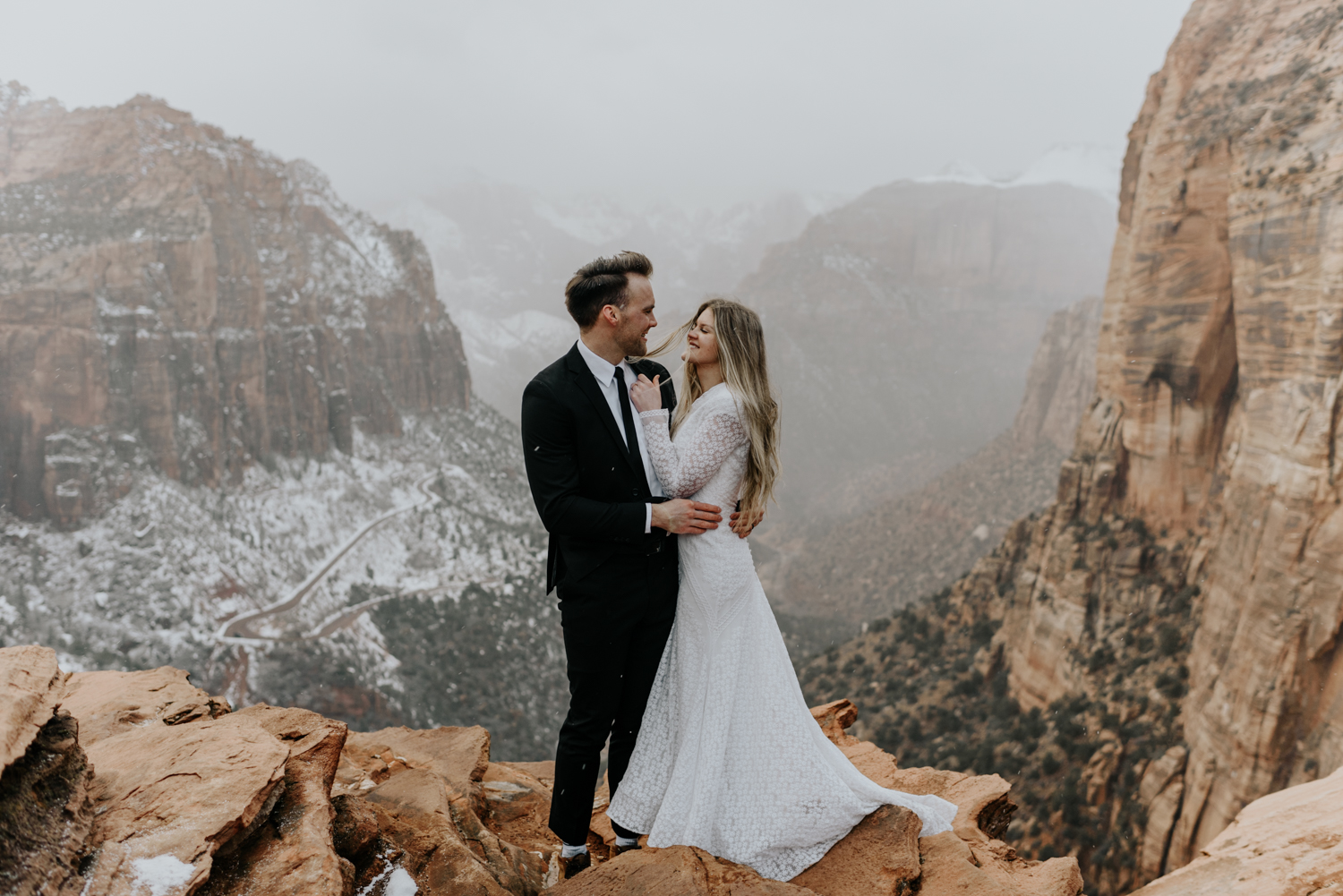 Planning your Zion National Park Elopement with Map + Compass
Does planning an elopement or couples adventure session in Zion National Park sound like you? Contact me today to plan the perfect experience adventuring around Zion or your National Park of choice! Check out my travel schedule to see where I will be traveling in the coming months!